---
About Lisa
Hi,
I'm Lisa McKenna and I'm a former professional Squash player now coaching and generally involved in the world of Squash.
I'm a former Professional Squash Player, now providing Squash Coaching Services in Scotland from my base in Edinburgh.
I started playing squash at the age of 9 at Abercorn Sports Club in Edinburgh. It was here that I developed a passion for the sport and I have been hooked ever since.
I started to have coaching and was entered for local tournaments. I went on to become British Junior Under 14 and Under 16 Champion. As well as being Scottish Junior Champion and ranked No.1 in Britain at U19 level, I also represented Scotland at Junior and Senior level.
I then went on to play squash professionally where I reached my highest world ranking of world no 37 before making the transition to squash coaching. I have coached all levels of players from beginners through to professionals as well as coaching at junior regional squads with England Squash.
Having recently moved back to Edinburgh to take on the post of Events Manager with Scottish Squash and Racketball I am also coaching at Grange & Watsonians Squash Clubs. I am also available for lessons at other venues by request. This is an exciting new venture where I hope to develop a growing squash community.
I look forward to hearing from you soon.
Lisa.
Enquire about squash coaching
---
"I have taken coaching from Lisa for almost three years and I loved every minute of it. I liked her clear feedback. Lisa could always tell me what I was doing wrong like e.g. the timing, the shoulder, the wrist, the backswing or the follow through. This really helped me to concentrate on specific things. While practising the shoots, Lisa gave me a lot of opportunity to explore and try out different things to get the feeling for the shoot. Besides practising individual shoots we also practised combinations of shoots and discussed the strategy of shoots in a game. Very helpful.

I really liked the combination of group and individual coaching I took as Lisa could see me playing others in the group sessions and pick up on things in the individual sessions. Lisa also always showed interest in my regular games and asked how things were going. At any time I could ask her to repeat certain shoots which have not gone well recently. Lisa would also give me tips what to concentrate on in games. Coaching with Lisa changed my view on the game. It is a very strategic game and it is great to be able to win a rally if you have the right tools/shoots and things worked out as you wanted it. I love it. Coaching with Lisa was great and very motivating. After the coaching I went of court and wanted to do it better."
- Katrin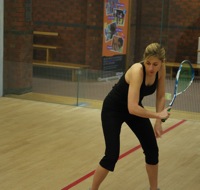 Quick Fact
---
My highest World Ranking was 37 - reached in 2001
---
1992

British under 16 Champion

British under 16 Champion

1995

Scottish under 19 Champion

Scottish under 19 Champion

1995

Top 16 World Junior

Top 16 World Junior

1998

Atlanta Open -semi finalist

Atlanta Open -semi finalist

1999

European Championships Scottish Ladies Team runner up

European Championships Scottish Ladies Team runner up

2001

Ranked World Number 37

Ranked World Number 37

2003

Scottish National Championships Runner Up

Scottish National Championships Runner Up